Microsoft SQL Server
The foundation of Microsoft's comprehensive data platform, SQL Server delivers breakthrough performance for mission-critical applications, using in-memory technologies, faster insights from any data to any user in familiar tools like Excel, and a resilient platform for building, deploying, and managing solutions that span on-premises and cloud.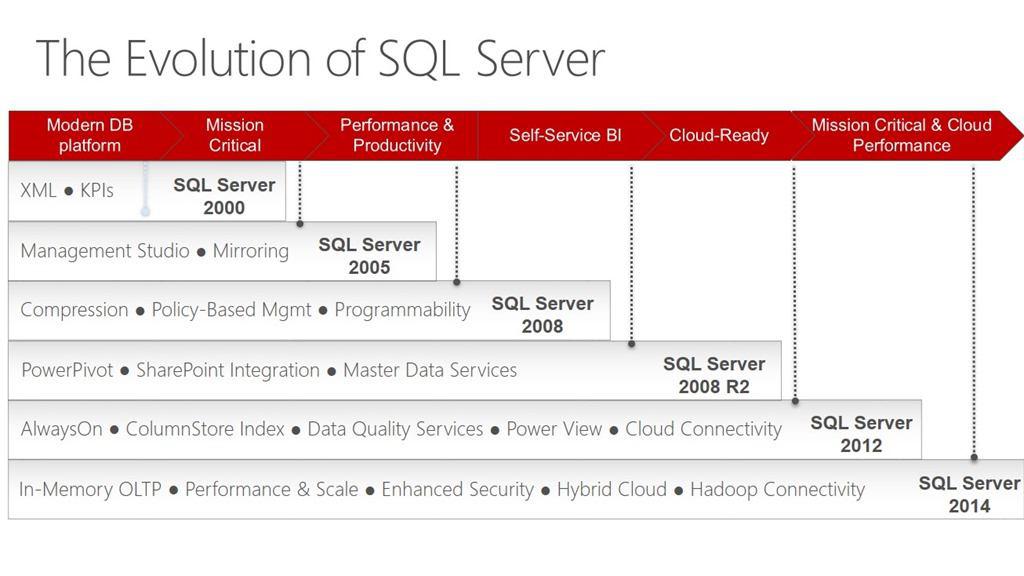 SQL Server 2014 delivers mission critical performance across all workloads with in-memory built-in, faster insights from any data with familiar tools, and a platform for hybrid cloud enabling organizations to easily build, deploy, and manage solutions that span on-premises and cloud. 
Editions Overview
The SQL Server 2014 editions align with how customers are deploying applications and solutions:

  Enterprise Edition for mission critical applications and large scale data warehousing


  Business Intelligence Edition for premium corporate and self-service BI


  Standard Edition for basic database, reporting and analytics capabilities
These three main editions are offered in a consistent, tiered model which creates greater consistency across edition features and licensing. Enterprise Edition includes all product features available in SQL Server 2014, and the Business Intelligence (BI) Edition includes premium BI features in addition to Standard Edition database features.
Microsoft SQL Server 2014 Virtualization
Virtualization is being employed in a wide range of computing scenarios today, from software development and testing, to disaster recovery and load balancing. To date, one of the major drivers of virtualization has been server consolidation. With the increase in server core density, a typical workload may use just a small fraction of the available computing capacity, and virtualization offers a simple way to carve out and use only the required processing power from server hardware. A key trend today is database virtualization, which allows the database to run in a virtual environment, enabling benefits like more efficient hardware utilization, easier management, and higher availability.

To gain the benefits of database virtualization, Microsoft customers are virtualizing their SQL Server workloads and will increasingly do so. With SQL Server 2014, Microsoft provides licensing options to help customers take advantage of virtualization, and to pay in a more granular and fair way than the industry has typically seen.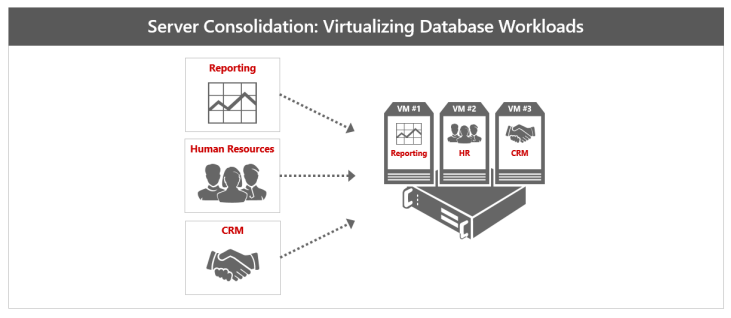 In this paper, we will cover the virtualization licensing options available with SQL Server 2014 and take a close look at the key principles involved. Along the way, we will also examine a few real-world scenarios to help illustrate how these principles are put into practice.
Breakthrough performance and faster insights delivered by a hybrid data platform
SQL Server 2014 enables customers to build mission-critical applications and Big Data solutions using high-performance, in-memory technology across OLTP, data warehousing, business intelligence and analytics workloads without having to buy expensive add-ons or high-end appliances. SQL Server 2014 uses a common set of tools to deploy and manage databases both on-premises and in the cloud, which makes it easier for customers to take advantage of the cloud with existing skills.

  Download the SQL Server 2014 trial


  Download SQL Server 2014 Express


  Read the SQL Server 2014 and the Data Platform Datasheet


  See the new possibilities with SQL Server on Microsoft Azure


  Read Gartner's Magic Quadrant for Data Warehouse Database Management Systems Report


  Read Gartner's Magic Quadrant for Business Intelligence and Analytics Platforms Report
Support resources for SQL Server
Get prioritized 24x7 problem resolution and access to advanced technical training with Premier Support. Take advantage of solution validation and architectural reviews, on-site solution-engineering expertise, and the fastest response times available from Microsoft with Premier Mission Critical Support. 
  Go deeper on SQL Server at the Learning Center
  Benefit from SQL Server migration and assessment tools
  SQL Server on TechNet
  SQL Server on MSDN
  SQL Server on Twitter

  SQL Server on Facebook
  Search the Knowledge Base
  Contact Microsoft Support
  Nontechnical support
  Join the Professional Association for SQL Server for community-based support
Benefits
SQL Server 2014 makes it easier and more cost effective to build high-performance, mission-critical applications, enterprise ready Big Data assets, and BI solutions that help employees make better decisions, faster. These solutions have the flexibility of being deployed on premises, in the cloud or in a hybrid environment, and can be managed through a common and familiar tool set.
Mission-critical performance
SQL Server 2014 accelerates reliable, mission critical applications with a new in-memory OLTP engine that can deliver on average 10x, and up to 30x transactional performance gains. For Data Warehousing, the new updatable in-memory columnstore can query 100x faster than legacy solutions. SQL Server also delivers peace of mind as the most secure database five years in a row. (National Institute of Standards and Technology Comprehensive Vulnerability Database 4/17/2013, Market share from IDC 2013)
Faster insights on any data
Get to insights faster with a complete BI platform that speeds up how you access, analyze, clean and shape both internal and external data. With SQL Server 2014 and Power BI for Office 365, it is easy to connect every user in an organization to the right data they need to make better decisions, faster.
Platform for hybrid cloud
SQL Server 2014 was designed to work in a hybrid environment that spans on-premises and the cloud and has new tools that make it even easier to build back-up and disaster recovery solutions with Microsoft Azure. These tools provide an easy on-ramp to the cloud for on-premises SQL Server databases, enabling customers to use their existing skills to take advantage of Microsoft's global datacenters.
Capabilities
  Breakthrough, in-memory performance
  Proven, predictable performance
  High availability and disaster recovery
  Enterprise scalability across compute, networking, and storage
  Security and compliance
  Consistent data platform on-premises to cloudCorporate business intelligence

  Faster insights for all users in familiar tools like Excel and data access via mobile devices
  Scalable data warehousing
  Data quality and integration services
  Easy-to-use management tools
  Robust development tools