MAGENTO MOBILE APP DEVELOPMENT


 ...and customize it as your wish
You want to upgrade the app or get some extra features like store locating, product label, instant contact, analytics? All you have to do is search for your demand in our marketplace, pick an appropriate plugin to add in your app and you will get exactly what you want.There are various ones available for you. Maybe you can find a good piece for FREE!




---
Besides, your mobile app and webstore are auto synced
No need to export or import your huge product data! ,all things from product catalog, to taxes, shipping rate, language, currencies... are automatically synced with Magento Webstores. We also support various product types such as simple, configurable, bundle, grouped and virtual, downloadable products (coming soon).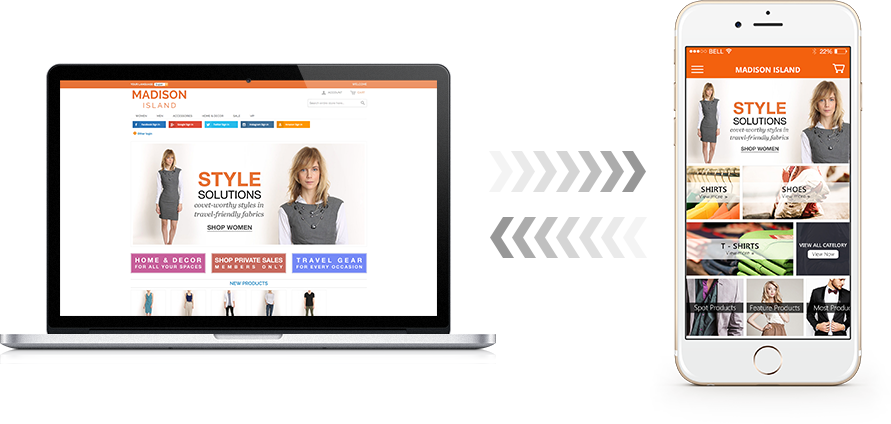 ---
 ... fire up customers with available mobile features
Customers love promotion, thus, a message like " sales off 50 %" or "Deal up to 80%" can drive them crazy. Keep them suprised with some eye-catching banners that can be changed easily.
It's also important for customers to contact you immediately via email, phone call or texts. An interactive contact page with all above features can help.
Besides, let your customers find your shops easily on Google Map and show them the way to reach there with your Store Locator and their GPS. At least 70% of customers will love that!



As well as engage them with well managed app
"About us", "Privacy Policy" is must-have information even in a mobile app. You can create them just like you usually do on website. Moreover, if you need to emphasize on some products, don't hesistate to use Product Label. A badge like "Hot" and "Updated" can catch the eyes of any customers. Not only provide app content management, eCart also allows you to control customers accounts and encourage them to buy more now or later with their Wishlist. Finally, make sure to measure the results from your app in a right way with App Analytics.
Our infinitely customizable template is powered by a conversion engine that optimizes every pixel of your mobile store.
A Complete Features
Search, Sort and Filter

Enhance product discovery with a fast search, multiple sorting options and relevant filters

 

Infinite Scroll

Infinite scrolling support to showcase your entire catalog.

  

Featured Collections and Products

Have a special set of products? Feature them on your homepage.

  

Faster Page Load

Image compression and adaptive content delivery to load your pages fast. Lightning fast.

  

Tap, Pinch, Zoom, Swipe

A premium image viewing experience that shows your products in great detail.

  

Call or Email

Make it easy for your customers to get in touch.

  

Favourites and Wishlists

Allow customers to shortlist their favorite products and increase your order size.

  

Category Heirarchies

Replicate your online product category and sub-category pages.

  

Offers and Coupons

A great tool to retrieve abandoned carts and encourage repeat purchases.

  

Push Notifications

Let your customers know everytime you have something new to offer.

  

Live Chat with Merchants

Answer questions real-time and convert grazing customers.

  

Easy Checkout

Intuitive navigation that makes checking out a hassle-free experience.